Oh lord this has made me angry.  Again.  And I swear I'm trying not to swear this time!!  But this letter has to be seen to be believed.
Donald Trump has this week submitted a formal objection to the Vattenfall offshore energy project for the Aberdeenshire coast, but he has also deemed it appropriate to huff and puff in an outrageously hypocritical letter to First Minister Alex Salmond.
Before you read the highlights of Trump's letter and thus learn about his heartfelt regard for the environment, his love and pride in Scotland's heritage and beauty, and his invocation of the spirit of his mum, first take a moment to consider how this man has demonstrated his regard for Scotland's heritage in the process of building his golf course….. 
As Andy Wightman begins in his report of the whole sorry saga…..
"I will start by telling you a story about a golf course built in spectacular dunes on the wild Scottish coast. It was financed by a wealthy American and designed by a famous golf architect. The course is the only one in the UK to have been built wholly within a Site of Special Scientific Interest (SSSI) and, working with Scottish Natural Heritage, the designers have created a remarkable course, built by hand which enhances the wildlife of the site.

Over the 259 acres of the course, a mere 7 were disturbed during the construction. The owners are investing in a local hotel in the nearby town and have been welcomed by the local community. The course is the first 18 hole golf course in the UK to receive certification by GEO, the Golf Environment Organisation who described it as the "world's most natural golf course" and an "exemplar of sustainable golf course management, going beyond what is required to produce an excellent links golfing experience."

Welcome to Machrihanish Dunes in Kintyre.  But this report is not about Machrihanish Dunes, it is about another golf course which has been developed in very different circumstances and which GEO described as constituting "a complete failure to protect one of the last few remaining wild sand dune systems in north western Europe.""
That wild sand dune system is currently being bulldozed……with bulldozers, because Donald Trump has showed little concern and has not hesitated in trashing part of the Foveran Links Site of Special Scientific Interest (SSSI).  SSSIs are designated because they are of national significance and importance, regarded as the areas that best represent Scotland's natural heritage.  The Scottish Government's own Nature conservancy agency, SNH, described Foveran as:
"the most dynamic, most rapidly moving and largest area of bare sand in this area of Scotland. It is quite simply the jewel in the crown of the SSSI areas of bare sand in this area of Scotland and therefore the jewel in the crown of the UK resource."
The Trump Organisation however, have effectively dismissed suggestions from consultees in the planning process that the plans could be adapted to accommodate the dune system and even enhance biodiversity, as had been done to great effect at the Machrihanish Dunes course in Kintyre……which involved SNH from the outset and has been heaped with praise since its construction.  Indeed the Scottish Government's own Environment Minister went on record saying it was 'a good example where entrepreneurship does not have to be at the cost of the environment.'
The same cannot be said for the Trump Organisation's brand of entrepreneurship, with said organisation showing no regard for the environment, no regard for Scotland's natural heritage and thus the hypocrisy displayed in Donald Trump's letter is enough to make any decent person want to vomit.  A lot.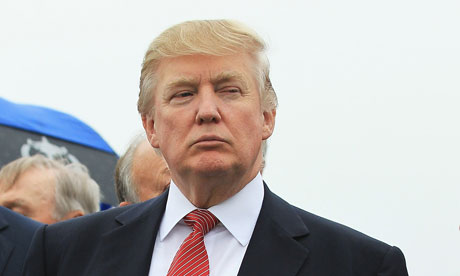 I couldn't find the letter in its entirety, so have just cut & pasted the highlights from The National.  If anyone has a full version please let me know.
Donald Trump has branded the offshore windfarm as "disastrous and environmentally irresponsible", saying to Alex Salmond that if the "ugly" turbines were built in the bay….."you should ask yourself if any other international developer would ever risk investing in Scotland after my experience and all the promises that were made to me".
This is because he claims Scottish Ministers promised him that turbines would not be constructed within sight of his development.  There's no record of this in the planning documents of course.  Those pledges, according to Mr Trump, were extracted from the Scottish government more than five years ago……"as an incentive for us to proceed with my project".
Yesterday a spokesman for the Scottish government said:
"Mr Trump's letter refers to the position five years ago, when he was submitting his Menie planning application in 2006 - before the current administration took office - and therefore we have no knowledge of what was said then"
……..which I hope is a sign that they don't feel duty-bound by some dodgy handshake deal, assuming it even happened of course.
Trump continues:
"I object in the strongest possible terms to the current location of the wind turbines as proposed by Vattenfall, which is only 2km from my championship golf course and directly opposite Royal Aberdeen Golf Club."

"Its adverse visual impact on my development and the beautiful Aberdeen coastline would be disastrous and environmentally irresponsible."

"I will soon have invested approximately £60 million of my own money - which is not a public subsidy, unlike the funding for Vattenfall's turbines - to create a world-class golf resort under my global brand."

"After enduring the expense and many years of complex planning procedures, the championship course is nearing completion, well ahead of schedule."

"Unfortunately, instead of celebrating the start of something valuable and beautiful for Scotland, this ugly cloud is hanging over the future of the great Scottish coastline."

"My objection to the wind farm should come as no surprise to anyone because I have consistently warned of the adverse consequences it would have on my development and on Aberdeen."

"I am not fighting this proposal merely for the benefit of Trump International Golf Links. Instead, I am fighting for the benefit of Scotland."

"Every location in the United States with a magnificent coastline - nothing compared to Scotland - has successfully defeated these horrendous looking, noisy and inefficient structures."

"My mother, Mary MacLeod, who was born in Stornoway [in the Outer Hebrides off Scotland's north-west coast], would be very proud of what I am doing for Scotland."

"It is not only for my project, it is more to preserve Scotland's beautiful coastline and natural heritage."
<VOMITS!>
Scottish Ministers have since said:
"The Menie application was determined properly, according to Scotland's planning laws and procedures, and it will be exactly the same for this development proposal.  Ministers will assess every planning application on its merits, taking into account the views of consultees, interested parties and the public."
Is this not just the most unbelievable, insulting and frankly outrageous response from a man with a track-record in not giving a shit about Scotland's natural heritage?  If he didn't wield as much power and influence as he does I think we'd all be laughing and thinking he was a figure of mirth and minor amusement.  There are windfarms all over Scotland.  There must be hundreds of people who have invested their own personal money in ventures only to have turbines spring up nearby.  Join the club, Trump!  No pun intended.
If I was a Scottish Government minister my gut response would be something along the lines of…….
Sorry Mr Trump but the loss of a view, be it good or bad, isn't regarded as reason to refuse a development in our planning process.  If your tedious propaganda has told us anything, your much-Trumped course has intrinsic appeal in itself before you even consider the views out to sea.  Your guests won't care.  They'll still come.  You've got your golf course despite having turned a SSSI into a putting green in the process.  Just be happy at that and shut the **** up.
Related Stories