The lack of a clear EU-wide policy on fracking is painfully apparent at the moment with some countries supporting it, some banning it, some changing their minds and some with no idea whatsoever.
Second country bans fracking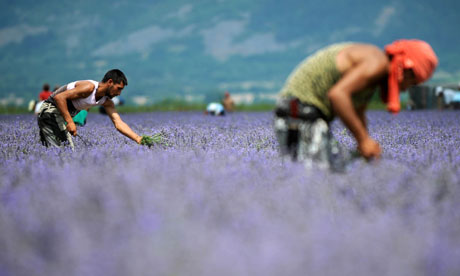 Back in February this year, Bulgaria enforced a moratorium which banned extraction of shale gas via 'fracking' methods.  That story didn't seem to get much publicity at the time so I thought I'd mention it now, especially given the public opposition that fracking is experiencing in Poland at the moment.
Bulgaria's news was interesting.  They performed a spectacular u-turn when MPs overwhelmingly voted to ban all shale gas exploration in that country.  It came as something of a surprise, seeing as in June 2011 the Bulgarian government had granted a permit to the US firm Chevron to prospect across 4400 sq km around Novi Pazar.
"The government had hoped that the new energy source would reduce the nation's almost complete dependence on imported Russian gas, supplied by Gazprom.  Bulgarian shale-gas reserves are estimated to amount to at least 300bn cubic metres, according to the economy and energy ministry."
In mid-January however, anti-fracking demonstrations were widespread and eventually reached the capital Sofia and a dozen other towns across Bulgaria.  The Guardian interviewed a Novi Pazar resident at the time:
Shukri Hussein was only 23 when he first bought some land, with a friend, to start a farm at Praventsi, a village close to Novi Pazar, in north-east Bulgaria. Ten years later the biology graduate heads a 110-hectare organic farm with a workforce of 35.

"To begin with everyone was really enthusiastic," says Hussein. "We thought we'd get rich overnight. But when I realised the hazards this technology entails I was very concerned. I've worked hard for the past 10 years to build up the farm. If they start drilling for shale gas I'll lose everything."
Pro-fracking argument is ineffectual
Being objective, it is by no means certain that this chap will 'lose everything'.  Introducing fracking into an area does not automatically mean pollution of groundwater or suffering adverse consequences.  And as you'd expect, drilling companies are forever appearing in the media saying that the method of extraction is safe, regulated (depending on what country you live in) and that the risks of pollution are practically non-existent.
Indeed on BBC Newsnight a couple of months ago, Demigod Paxman was quizzing consultant Nick Grealy about whether fracking can result in tap water being contaminated with methane.  Grealy said the phenomenon has no links to fracking whatsoever.  Paxo was surprised by Grealy's conviction and so again stated: 'so it is impossible that that was caused by fracking?'.  'That is correct', replied Grealy.
A brave man?  Or a foolish man?  To state categorically that something is impossible can come back to bite you and destroy any credibility you may have.  I wouldn't be surprised if he comes to regret that later.
But the point of this is that if fracking truly is safe, the fact remains that state agencies, oil companies and drilling companies have been woefully ineffectual in their attempts to persuade Joe Public that it does not pose any risks.  IF it is safe, then they really must try harder to get that message across……though frankly I don't fancy their chances.  Nobody trusts government or oil companies, and if anyone DOES trust governments or oil companies then they themselves are not trusted by the world at large.
And so it's not surprising that fledgling farmer Shukri Hussein is won over by the arguments against rather than the arguments for, especially when the usual bribes and sweeteners start to rear their ugly heads:
"We were promised lots of jobs and other miracles," says Vessko Dimov, a dental surgeon from Novi Pazar who launched the anti-fracking protest movement. "But when we woke up to the hazards involved we decided to oppose the project."A petition collected 15,000 signatures in a month and, much to the protesters' surprise, several councils in the area decided to oppose fracking.
The campaign then spread to Veliki Preslaz, a small town about 40km southeast of Novi Pazar.  This ancient town, once the second capital of the Bulgarian Empire, relies heavily on tourist traffic:
"The travel trade is vital for our town," says the leader of the local council Aleksandar Gorchev, elected three months ago. "Shale-gas exploitation is a real danger for us. Everyone would be OK if this technology did not pose any problems, but that's not the case."
And that of course is the problem, that no matter how much the advocates of fracking talk about its safety and its regulation, the process of pumping chemicals deep underground and releasing them into the bedrock makes people uneasy.  Folk just aren't convinced that these companies know where on earth this liquid mix goes once pumped down there…..and so long as that uncertainty remains, then so will opposition.
Bulgaria's ban prohibited the injection of liquids into the ground and thus made it the second country to reject fracking as a method of extracting fossil fuels.  France enforced a ban in 2011, although the French ban does not rule out other methods for recovering shale gas or oil.
Bulgarians opposed to shale gas extraction were unsettled by a recent amendment to the moratorium however, which they seen as a u-turn of sorts.  This from NewEuropeOnline:
The first point of the moratorium:
…dealt with the prohibition of introduction of fluids into the ground under pressure of more than 20 atmospheres. According to the chairman of the Temporary Parliamentary Commission, Dian Chervenkondev, the deleted provision 'created barriers for extraction and conventional gas, as well as for storage of natural gas'.

The chairman explained that even though the text of the moratorium was changed, this 'did not allow exploration and production of shale gas under the hydrofracking technology'
Suffice to say that hasn't gone down well in Bulgaria.  The pumping of fluids is for many the crux of the matter…so it will be interesting to see what happens there.
Elsewhere in Europe opinion remains similarly divided, and the lack of a coherent policy across the continent on the pollution status of shale gas is contributing to the farce.
Romania
Another Russia-dependent state, Romania recently looked set to become a fully fledged shale nation.  But it has proved equally controversial in rural areas and plans for full exploitation of shale resource were thrown out with the old government.  This year's newly elected leftist government has already pledged a moratorium on fracking.  Chevron, who stood to profit from the industry were philosophical about it.  This from the NY Times article 'Shale Gas Search Divides Romania':
"We understand the concerns related to gas explorations from shale formations in Romania," said Mr. Thomas Holst, Country Manager for Chevron. Still, he said, not a single case of groundwater contamination had been linked to shale gas production since fracking was first used in the United States on an industrial scale in the 1970s. "As more information will be presented, people will be able to take an informed decision," he added.
You have to admire Mr Holst's optimism!
Czech Republic
Another European u-turn looks set to occur in the Czech Republic too, reports the Prague Post this week:
In response to a petition that garnered the support of 50,000 residents concerned about the environmental impact of drilling, along with the criticism of several regional governors, Environment Minister Tomáš Chalupa (Civic Democrats) has said he will propose a moratorium on shale gas exploration for up to two years until clear rules for the sector are established.

The proposal backpedals on the ministry's decision last year to allow companies interested in shale gas exploration to apply for permission to research potential sites for drilling.
A couple of companies have had their applications to drill stopped in their tracks, including BasGas Energia Czech, a unit of the international group Hutton Energy, and Cuadrilla Resources……the latter of Blackpool earthquake fame.
Amazingly there is apparently no hard evidence of specific shale gas reserves in the Czech Republic, but such is its lure that companies are falling over themselves in efforts to prospect for it.  Potential Czech hotpots centre on five different regions of the country, such as along the Berounka River near Beroun in central Bohemia and in the Beskydy Mountains in northeast Moravia.
South Moravia Governor Michal Hašek (Social Democrats) is going one step further than the Environment Minister, saying he will propose legislation this summer to ban shale gas exploration completely.
Interestingly in the Czech Republic it's not just environmental concerns that are leading towards a moratorium.
Though the Environment Ministry's proposal is just a temporary moratorium, Chalupa said it was necessary to slow the pace of shale gas exploration, lest the country find itself in a similar situation with shale gas investors as it did recently with solar energy investors, who are now threatening arbitration over reversals in state support for their sector.

"I wouldn't want to find myself in a situation whereby a private company will sue the Czech Republic in arbitration over lost profits only because our laws were not good enough," Chalupa said.
Germany
North Rhein Westphalia has already banned fracking and now it looks likely that the German government will follow with a nationwide ban. 
Poland
Yet another Russia-dependent state for its fuel, Poland is perhaps the most keen to exploit its shale gas reserves, which are considerable.
More than 20 international companies, such as Exxon Mobil and Chevron, have secured rights to drill in the northwest of Poland, and this is undoubtedly why the country has been a vocal opponent of the EU Fuel Quality Directive, which would label shale gas as being particularly 'dirty' because of the amount of energy expended to extract it.
Poland has therefore resisted calls for restrictive European legislation on shale gas, and NewEuropeOnline reported that it is eager to become Europe's 'shale gas empire':
This was stated by the Polish Prime Minister Donald Tusk during his official visit to Canada. He also expressed delight of the interest of a couple of Canadian companies, specialised in shale gas extraction, to work on this matter with his country.
UK
The only fracking site in operation was closed down last Spring after small earth tremors were widely reported near Blackpool, but a subsequent investigation has recommended improvements and now………..it's all systems go! 
The Guardian reported in Gas 'fracking' gets green light that:
Ministers have been advised to allow the controversial practice of fracking for shale gas to be extended in Britain, despite it causing two earthquakes and the emergence of serious doubts over the safety of the wells that have already been drilled.

The advice of the first official British government report into fracking, published on Tuesday, is all but certain to be accepted by ministers, with the result that thousands of new wells could be drilled across the UK.
Europe is divided and all bets are off

As you can see, Europe is divided when it comes to shale gas. This is why the European Commission was busy examining the risk and impacts of shale gas exploration and production and will give its final assessment in 2013.  It can't come soon enough if you ask me.
But it's quite the merry go round, and when the question posed is 'Which countries will fully exploit their resources?'…….all bets are off.  One thing is certain, however.  The frantic rush to prospect hints not at a bright new dawn for consumers or a new golden age of oil profits, rather it starkly illustrates the dire state and growing inaccessibility of traditional global fossil fuel reserves.